5/23 – OVM Annual Spring Show & Swap Meet – Corvallis
Corvallis Show Update, Friday, May 21, 2021
Benton County announced today that the 5/18/2021 updated state guidelines now govern events in the county. From the county website:
Outdoor Guidance: All Individuals
Masks are no longer required in 
outdoor settings open to the public.
"Outdoor spaces open to the public" means outdoor spaces, whether publicly owned or privately owned, where the public has access by right or invitation, express or implied, whether by payment of money or not, and include but are not limited to shared or common spaces, outdoor sports fields, parks, rooftop terraces, sidewalks or spaces where people may gather for social, civic, cultural or religious purposes.
Oregon Health Authority strongly recommends that individuals who are unvaccinated or who are at risk for severe COVID-19 disease continue to maintain physical distancing and wear face coverings when in outdoor crowded areas and in outdoor large gatherings of individuals and maintain physical distancing.
The OVM Show at the Benton County Fairgrounds this Sunday, May23, may be the first substantial event under these relaxed guidelines.  We look forward to seeing a lot of smiling faces!
But… we have not found a food vendor to support the show.  Please plan to bring your own food and drink.
Update: Corvallis Show, May 12, 2021
GREAT NEWS. THE EVENT IS ON!
Masks are required to enter and social distancing measures must be in compliance with state mandates.
The Ride
We have updated information regarding the OVM Ride & Show, which are both still planned to proceed. The OVM Vintage Ride starts and ends at the fairgrounds. All participants must sign the OVM Liability Release. OVM Membership and vintage motorcycles are encouraged but not necessary. This is a cruise, not a race, on backroads around Corvallis, approximately 100 miles with planned stops.  A gas and coffee stop will be at about 1/3 distance (35 miles) and a bio break at 2/3rds (75 miles) distance.  If you want food, please bring along.  Start time is Noon, Saturday, May 22 2021.  Pizza to follow the ride at 5:30 at the Fairgrounds. The route will not be published in advance, maps will be given out at the ride.
The Camping
The camping is covered by Benton County Fairgrounds, you can make your reservation through their website.  Price depends on what you are camping in.
The Swap Meet
Spaces rent for $20 per table space.  There is a parking fee if you come in Sunday $5, which is used to cover part of Space rental.   The swap meet setup usually starts about 7:30 Sunday.  Membership in the club is the same $20 and that gets you a free space!
There are no reservations; it is entirely first come first served. The Fairgrounds tells us that masks are required.
The show is still going on, as intended. Attendees are required to wear masks to enter, and practice social distancing measures while at the show in accordance with state orders. For further information, see show flyer below (generously designed by George Kraus).
The show is Sunday May 23 from 10:00 am – 3:00 pm. Bikes may be placed on the field as soon as the club officers in charge of the show (Bob Thomas and myself) are ready to indicate where the bikes should be placed. Vendors are allowed to place around the edge of the field as soon as any club officer is there to supervise (usually by 7:00 am). You must be a member to show a bike. Dues are $20.00/year. You can join on the day of the show.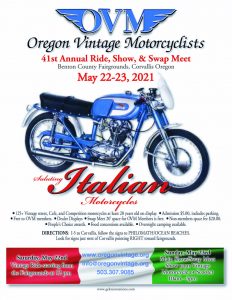 —————————————————————
Update: Corvallis Show Update, April 18, 2021
At a special meeting on April 17 to consider how the Spring Show in Corvallis might go forward, the following decisions were made.
The ride on Saturday, May 22, will go forward as planned, starting at noon from the parking area at the Benton County Fairgrounds.
The show on Sunday, May 23, will go forward only if we are allowed to have 250 people or more in the show area.  Benton County needs to move from the High covid category to the Moderate category for this to be possible, and even then there may be other State or County conditions to be met.  The State's update of county categories on May 4 will establish the category that will be used to confirm whether or not the show will go on.
The determination of whether the show will go on will be communicated to OVM members by the OVM group email, the OVM website and the OVM Facebook page as soon after May 4 as possible.

We fully intend to go forward with the OVM Corvallis Ride & Show if we are allowed to under the Governor's restrictions related to the Covid-19 pandemic.
Please check back from time to time to see updates. We'll post updates as we learn more about the event. 
Our premier annual event, which is open to the public is our May Show and Swap Meet. It takes place in Corvallis, Oregon, at the Benton County Fairgrounds. The show is always on Sunday of the weekend before Memorial Day and opens to the public at 10:00 AM. Admission is a low $5.00 per person with children under 12 free.
You can expect to see over 100 well-restored or original examples. There are also always lots of really nice British bikes on display, quite a few BMW's and some Italian bikes. Japanese machines have been gaining in popularity too. There is also food available at the display site, which is outdoors whenever weather permits (we've only had to go indoors due to rain 3 times in 19 years) in a large field at the front of the fairgrounds.
Visitors to our show are encouraged to fill out a 'People's Choice' ballot where you can vote for your favorite bike from each of seven categories: British, American, European, Asian, Competition, Cafe and Featured Marque (Triumph in 2019).
The club president also names their favorite and awards are given for President's Choice and each of the four People's Choice categories. Beginning with the 2000 show, we have pictures of each of the bikes so honored on display in our photo gallery.
On the Saturday before our May Meet, we always have a vintage ride. See the photo gallery for an idea of the kinds of bike that take part in this. Anyone who wishes to participate in the ride is invited to meet us at the Benton County Fairgrounds west of Corvallis no later than 11:00am. The ride consists of about 60 – 70 miles of some of the Willamette Valley's best backroads at a safe riding pace. There is free pizza after the ride at the Fairgrounds. Everyone is welcome. OVM encourages members to ride vintage bikes to sponsored events and rides, but vintage bikes are not a requirement in order to participate in regular rides.