2023 OVM Annual Banquet
Saturday, February 11, 2023 5:00pm
Milwaukie Elks Lodge, 13121 SE McLoughlin Blvd., Oak Grove OR 97222
Speaker: Dr. Charles Falco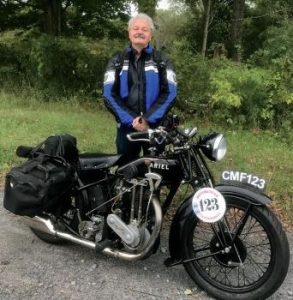 After our two-year Covid hiatus of banquets, the OVM Board has invited an exciting guest speaker to the OVM banquet, Dr. Charles Falco of the University of Arizona. He is a student of motorcycle design and engineering, and is also an active rider, pictured here with his Ariel single on The Cannonball Run. In 1998, Dr. Falco, along with Ultan Guilfoyle, co-curated The Art of the Motorcycle exhibition for the Solomon R. Guggenheim in New York City. That exhibition set an all-time attendance record for the museum. He will bring an informative audio visual presentation and a rare degree of expertise. It is a chance to get back together and enjoy a special evening.
$40.00 per member or spouse if paid and received by Saturday, January 28, 2023.
$50.00 thereafter, at the door or as non-member.